PVC Pride Designee Team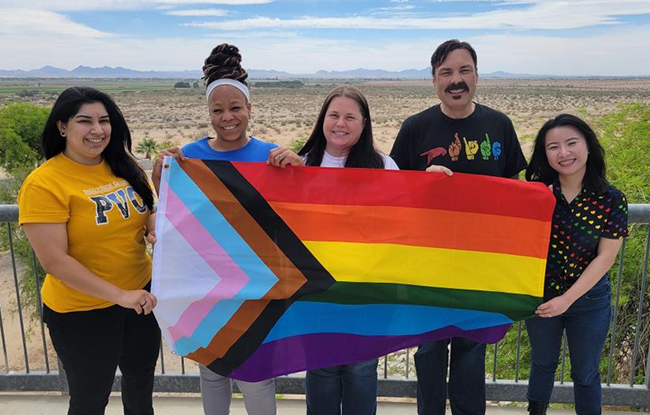 Meet your Designee Team!
Christopher Cardona
American Sign Language Instructor
christopher.cardona@paloverde.edu

Professor Cardona (he/they) has been a full-time faculty member at Palo Verde College since 2021. He has always had a passion for teaching and enjoys being on campus as often as possible.
He presents to audiences world-wide on topics related to teaching, interpreting, LGBTQ+ interaction, & intersectionality.
He has received recognition from County Supervisors, Members of the California State Assembly, Senators, and City governments for his volunteer work with youth and senior citizens.
He volunteers at the LGBT Community Center of the Desert, is on several committees here at PVC and on the regional and state-levels.
Professor Cardona is happiest in the classroom and while serving as the co-chair of the PVC Pride Designee Team.

---
Kim Dieu
Psychology Instructor
kim.dieu@paloverde.edu

Greetings, everyone! I'm Dr. Kim Dieu (she/her), and I'm a queer psychology professor at Palo Verde College (PVC). I received my Ph.D., in education, with emphasis in School Psychology, from Chapman University. I teach courses such as general psychology, personal and social adjustment, introduction to statistics, intentional interviewing and counseling, human sexuality, lifespan development, and positive psychology.

Prior to my arrival at PVC, I worked as an elementary school psychologist, where I assessed children for special education eligibility and implemented multitiered systems of supports. During my doctorate, I worked at UCI's Center for Autism and Neurodevelopmental Disorders, where I supported families and children in navigating the special education process. Upon completion of my doctorate, I worked as a tenure-track School Psychology professor, at a four-year, private university, where I supported graduate students in their pursuit of the school psychology profession.

I feel energized by serving those around me and relishing in the joy of improving lives, alongside educators, families, and community members. I believe this work is part of an equity-mindset, which seeks to address social justice issues, within the context of community. When not working alongside others, I like to spend time with loved ones, including my cats, reading, watching Ghibli films, doing DIY home projects, dancing, listening to music, and participating in queer related events within Los Angeles County.

---
Alice Dean
CalWORKS Student Services Technician I
alice.dean@paloverde.edu

I am Alice Dean (she/her). I worked part time as the CalWORKs Clerk (2018-2022) and started full time July 2022 as the CalWORKs Student Services Technician I at Palo Verde College. Prior to working here, I raised four sons at home while earning my bachelor's degree in Professional Studies minoring in Family History Research from BYU-Idaho. I love raising my own chickens, genealogy, walking, exercising, traveling, architecture and learning.
---
Bianca Rodriguez
Advancement Services Specialist
bianca.rodriguez@paloverde.edu

Hi! I'm Bianca (she/her) a born and raised Blythe local. I have been a staff member at Palo Verde College since 2018 where I started out as a part-time staff member in the IT Department. Now days you can find me in the Business Services Office, working on something to do with scholarships or marketing for the college.

I graduated from Arizona State University with a B.S. in Graphic Information Technology with a focus on Web Design and Development in December of 2019. I like to keep my skills sharp by continuing to shape my craft and learn as much as possible.

Aside from work, I love watching horror movies, reading, creating art and music, and spending time with my family and friends. This summer I was finally able to attend my first Pride event. The feeling of being around other members of my community expressing themselves for a joyous occasion was such an amazing feeling. My hope as a designee is to be able to foster that kind of feeling here at PVC.
---
Elizabeth Pope
Curriculum & Catalog Specialist
elizabeth.pope@paloverde.edu

Hello! I am Elizabeth Pope. My pronouns are She/Her/Hers. I am the Curriculum and Catalog Specialist here at Palo Verde College. I have worked full-time at the college since 2008. Prior to getting a full-time job, I worked as a student worker for three years (2005-2008). I was born and raised here in Blythe, CA. I am a mother to a son and a wife. I love all animals and gardening.
---
Jaclyn Randall
Dean of Needles Center
jrandall@paloverde.edu