Emergency Medical Technician
Emergency Medical Technician (EMT) Course EMS 160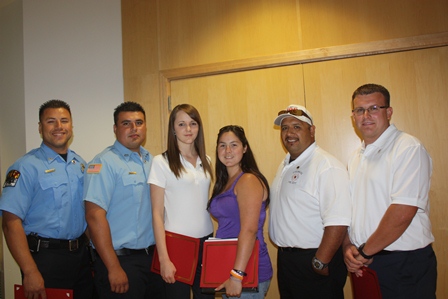 The purpose of the EMT training program is to prepare the individual to render basic life support at the scene of an emergency, during transport of the sick and injured, or during interfacility transport within an organized Emergency Medical Services (EMS) System. The course emphasizes demonstration of competency and proficiency in the required skills, required for ambulance personnel and recommended for ancillary medical emergency personnel. There are currently no prerequisites required for EMT Program. Classes are offered at both Palo Verde College and Needles Campus.
EMT License
Upon satisfactory completion of this program the graduate will receive a certification of completion from the college and is eligible to take the National Registry Emergency Medical Technician (NREMT) for licensure as an EMT the state of California.
General Information
Emergency Medical Technician Refresher Course EMS 161
Prerequisite: Current Emergency Medical Technician I license or which has been expired less than 6 months.
The EMT Refresher course is a review of the skills and knowledge covered in the EMT Basic course. Additionally, EMS regulations require students receive information on new equipment, current research, change or updates in protocols and issues of general concern to EMS providers in order to maintain certification.