Vocational Nurse (VN)
NEW DEADLINE DATE!!
NOTICE: The Board of Vocational Nursing & Psychiatric Technicians (BVNPT) has approved the Fall 2017 VN Program. Applications are available on the website or the Nursing Office (CL125). Application deadline is June 8, 2017. Applicants, who are currently enrolled in prerequisites, may submit an application; acceptance is dependent on successful completion of the prerequisite. Successful applicants will be notified no later than June 23, 2017.
Please read the Admission & Selection Criteria and Application information carefully. For additional information or questions, please contact Silvia Lainez (760-921-5504) silvia.lainez@paloverde.edu or Dr. Armstrong (760-921-5444) virginia.armstrong@paloverde.edu.
Mission Statement
Through instructions, we will assist students to become skilled healthcare providers delivering quality healthcare to their community.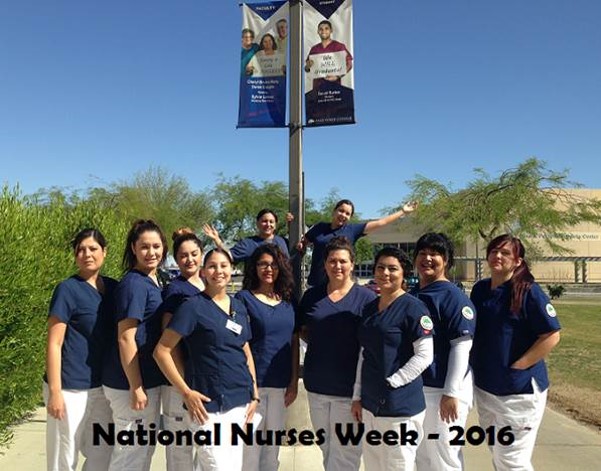 General Information
The Vocational Nursing Program is designed to prepare students to function as members of the health care team under the direction of a licensed physician and/or a registered nurse in a variety of situations concerned with quality nursing care. Vocational nursing students learn to assist in data collection, plan and implement nursing care, administer medications and treatments with knowledge of their therapeutic results and maintain a safe environment for clients and their families. The Traditional Nursing Program is accredited by the California Board of Vocational Nursing and Psychiatric Technicians (BVNPT).

The Traditional VN Class requires three semesters of full time study in addition to prerequisites. Fifteen students are accepted into each class (with BVNPT approval). Applicants not accepted may apply for the next VN program start. THERE IS NO WAITING LIST.

VN license: Upon satisfactory completion of the program, the graduate will receive a certification of completion from the college and is eligible to write the National Council (of State Boards of Nursing) Licensure Examination (NCLEX-PN/VN) for licensure as a vocational nurse in the state of California.
General Information