Contact Us
The most common problems students have using the Bridge or PVC-Services can be resolved by reading the information below. If you continue to have an issue after reading the FAQs please send an e-mail to

or call our Help Desk line at (760)921-5556.
The Bridge FAQs
Q:
I'm a first time Bridge user. What do I do?
A:
Before continuing any further, please view the Student Bridge Orientation video.
Q:
I forgot my password. How do I reset it?
A:
If you forgot your password, please visit the Student's page on PVC-Services and select the What's my password option under the User Account menu. Follow the steps to restore your password. For further help, please contact us.
Q:
Why are my classes not showing up on my workspace?
A:
Please make sure to click on the My Sites link to double check if your course is in the list. If it is not, there is another possible reason. When you first register for a class, it may not show up on your workspace immediately. The reason for this is that our system updates six times per day. This means that it would normally take a couple of hours for your course to show up. If your course is taking longer than this to show up, please contact our tech support.
Q:
How do I rearrange my courses on the Quicklinks?
A:
Rearranging your Quicklinks can be done by clicking on the Edit button next to the links. From there, you can choose how many courses you want displayed in your Quicklinks bar. You can also choose which courses you want displayed in your sites, or courses, and also hide any sites.
Q:
I can't open files on the Resources tab. What is going on?
A:
Instructors can choose which files to upload onto their Resources. This may include a variety of file formats which may or may not be common. If you cannot open a certain document, please contact the instructor asking which program or plugin can be used to open it. The most common programs are:
Microsoft Word
Adobe Flash Player
Adobe Reader
Q:
How do I submit my work?
A:
There are various ways to submit your work. This depends on how the instructor wants work submitted. If they have not specified how, please contact the instructor to find out which way he/she wants work submitted.
Q:
Why should I use a word processor to do my homework?
A:
It is recommended to do your homework in a word processor, such as Microsoft Word or Open Office, and then paste it onto the Bridge. Why do we suggest this? Well, there are several situations that can cause you to lose your work permanently if you type it directly into the Bridge. What do we mean by this? Here is an example: You worked long and hard typing up your response for an assignment on the Bridge and suddenly you get kicked out. This is a security measure. After a certain period of time on the Bridge without any activity (and typing in the Assignment Text box does not count), you get kicked out of your session. This is standard to any website that contains personal information. You will avoid lost work, time and frustration by simply typing your homework in a word processor first. Here's a second scenario: What if your internet connection is lost while typing your homework? Once again, you would lose your work. Writing it on a word processor is the safest way to make sure your hard work receives credit the first time. Finally, by typing in a word processor, you are able to keep a copy of your work for your personal reference. So how do you do this? Well, it is an easy process. Once you have completed your work in the word processor, there are three easy steps.
1.
Select the "paste from word" option in the assignment text editor.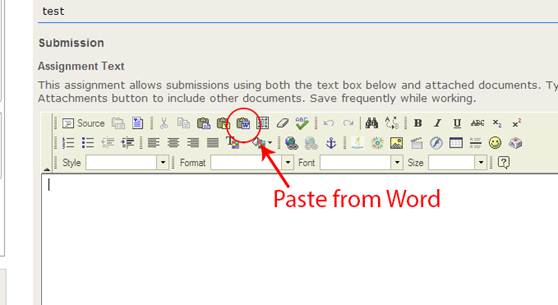 2.
Highlight all of your text in your word processor, right click on it, and select "Copy"
3.
Paste the text that you copied from your word processor into the Bridge by right clicking and selecting paste, or using the shortcut Ctrl+V, in the Assignment Text box. Your text should show up with the same formatting you used on your word processor. Once you verify everything is fine submit your work.
Alternatively, your professor may allow you to upload word documents directly into the homework assignment. Either way, make sure thatyou are protected from unnecessarily lost work.
PVC-Services FAQs
Q: What is PVC-Services?
A: PVC-Services provides you information on courses listing, financial aid, allows you to register and drop courses, access grades, request transcripts, and check enrollment status. To access PVC-Services, please go to https://pvc-services.paloverde.edu/.

To obtain your PVC-Services ID and password, please select I'm New to PVC-Services and then follow the instructions provided. PVC-Services will send you a temporary ID via email.

Q: Where can I learn more about PVC-Services?
A: Please review our PVC-Services Student Guide.